Learning about alternative natural health solutions is usually instigated by living with pain and suffering in some way. Here are the Mathews' stories about how they got started in the Natural Health. 
The Realization of a Dream
Bioenergetic by Design began its journey as a dream of its founding natural health Specialists, Brian and Sharon Mathews in 2009. Having completed their training and received certification in Natural Bioenergetics™ in 2013, they returned from overseas and settled in the heart of the Fraser Valley in beautiful British Columbia, Canada.
The goal was to establish a business based on what the future of health and wellness services could be: holistic, collaborative, and personalized. 
Brian and Sharon continue to pursue their passion for providing the highest level of support and care for their clients, and have been joined by their daughter Sarah in the business.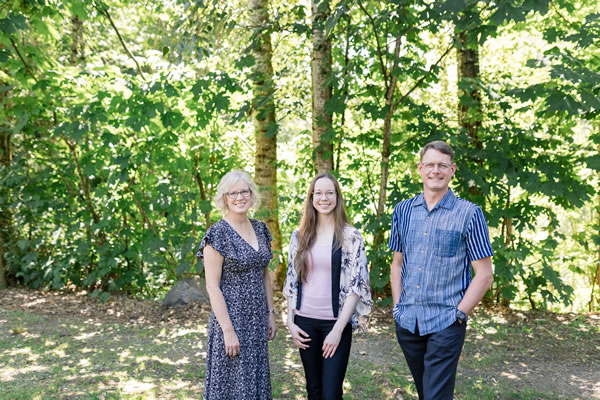 I was raised by parents who worked in business development, resort management and private acquisitions. They demonstrated a very high level of performance in their professional lives and that has been the fuel that has driven me in my career. I have a desire to achieve incredible results in short periods of time.
My career as an entrepreneurial business owner has allowed me to push the boundaries of my work environments. My work experience includes product development in the ski resort industry, constructing luxury custom homes, leading teams nationally and internationally, and, more recently, taking on the role as President of a global organization. I have come to understand how working in high pressure environments and taking on leadership and management roles and responsibilities, can be detrimental to one's health and wellness when there is not life balance; How sometimes we can be harmed by our own ambitions.
My current professional journey in Natural Bioenergetics™ is underwritten by the understanding that I can fulfill my drive to succeed and do that without losing my health and wellness in the process. My overarching goal is to have the best of both worlds: health and wealth.
I was born in New Zealand, growing up on a dairy farm. It was here I learned to appreciate good wholesome home-grown food, combined with fresh air and exercise. In addition to these physical qualities, I now know that a balanced life includes mental and emotional health, relationships, work, and personal development.
This holistic upbringing continues to influence my outlook on my own health and well-being and that of my clients and the services I offer.
I was first introduced to Natural Bioenergetics™ (NB) when my family began seeing a NB Specialist. I saw how NB brought them freedom and relief. Where there was once pain and illness, strength and wellbeing took its place. Soon my parents began their training in NB, it transformed our family into a new way of life. I began hearing stories of impossible things happening. Stories of people who suffered from pain and trauma finding transformation and peace.
For me, the idea of freedom from limitations, journeying with my family and being able to help people is what drew me to NB. By the time I graduated high school, I knew this was something I wanted to do.
If you have an open mind to alternative stress solutions, I whole-heartedly recommend the Mathews team at Bioenergetic by Design. Natural Bioenergetics™ can change your life and you can truly enjoy not being affected by the ugly parts of stressed life. Have faith and book your appointment.
Our natural health services are categorized into 3 areas: The Mind, The Physical Body, and Bioresonance. All 3 work together within our beings for holistic and synergistic results. For a better understanding of what's included in each category, click on the corresponding section below for more information.